Posle varijacija funkcije COUNT predstavljamo funkciju Choose, koja olakšava pretraživanje. Ona nije toliko poznata, ali u određenim prilikama može biti korisna, na primer kada biramo n-tu vrednost iz niza.
Njeni parametri su:
index_num – indeksni broj podatka koji nam je potreban.
value1, value2 … – niz iz koga izvlačimo vrednosti.

Vidite kako to izgleda na primeru.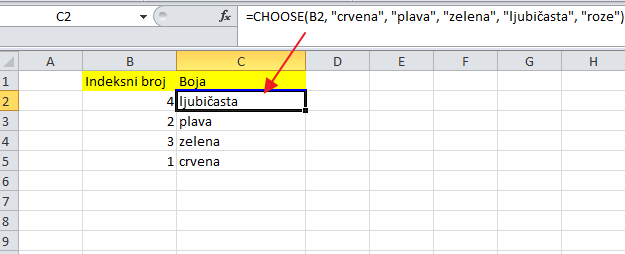 Dakle u ovom slučaju kažemo Excelu izvuci četvrtu vrednost iz niza, a to je ljubičasta boja i sve tako. Pošto su u pitanju tekstualne vrednosti, stavljamo ih u navodnike (kao što je uvek slučaj u Excelu). Brojeve ne moramo da stavljamo u navodnike.
Funkcija može da se koristi i za referenciranje ćelija, što vidimo u narednom primeru uz kombinaciju sa funkcijom SUM (ona sabira sve vrednosti iz opsega koji joj damo).