Fejsbuk može da blokira vaš nalog naizgled bez ikakvog razloga. Nekada je dovoljna samo zlonamerna prijava. Nakon što vam je pristup onemogućen, vrlo je teško vratiti ga nazad, pošto oni retko odgovaraju na poruke i zahteve (pročitajte ovde kako da ih kontaktirate). Neće vam preostati ništa drugo sem da otvorite novi nalog i oprostite se sa starim fotografijama i objavama.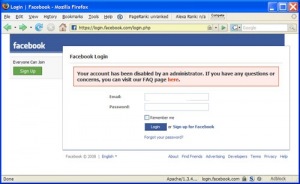 Koji su najčešći razlozi zbog kojih vaš nalog može biti zabranjen?
1) Neko vas je hakovao
Hakeri mogu da iskoriste vaš nalog za slanje virusa i spam poruka. Čim Fejsbuk to primeti,  blokiraće ga. Posle ćete morati da dokažete da vi niste ništa krivi, ali to nije nimalo jednostavno.
2) Ne koristite svoje pravo ime
Jedno od  pravila, kojeg mnogi nisu svesni, je da svako mora da koristi svoje pravo ime. Nema nadimaka i lažnih imena. Ako to ne poštujete, možete biti blokirani bez ikakvog upozorenja.
3) Poslali ste mnogo zahteva za prijateljstvo u kratkom vremenskom periodu
Ako pošaljete previše zahteva za prijateljstvo odjednom Fejsbuk vas može banovati misleći da ste spamer.
4) Imate dva ili više naloga
Sajt ne dozvoljava da imate nekoliko naloga. Čim primete da ih imate više od jednog mogu ih obrisati. Nemojte da rizikujete, ili ih bar koristite sa različitih IP adresa.
5) Ljudi vam često odbijaju zahteve za prijateljstvo
Fejsbuk polazi od pretpostavke da će većina vaših prijatelja prihvatiti poslati zahtev. Sve suprotno je znak da ste spamer koji uznemirava nepoznate osobe.
6) Vređate nekoga na verskoj, nacionalnoj ili bilo kojoj drugoj osnovi
Objavljivanje uvredljivih slika i komentara može biti razlog za zabranu pristupa.
7) Pornografija
Promovisanje pornografije u svakom smislu. Ne smete da stavljate slike golih ljudi.
8 ) Spamujete
Postavljanje jednog istog statusa u nekoliko različitih grupa ili slanje istovetnih poruka svojim prijateljima može se protumačiti kao spamovanje.
9) Učlanili ste se u previše grupa
Ograničenje je po 200 grupa po korisniku.
10) Reklamiranje
Objavljivanje nečega u zamenu za novac.
U slučaju da radite bilo šta od navedenog, ne mora da znači da ćete biti blokirani istog momenta. Prvo je potrebno da oni primete da kršite pravila ili da vas neko prijavi. To će se desiti pre ili kasnije, pa vam zato savetujemo da na vreme napravite rezervnu kopiju svojih podataka i zaštitite svoj nalog od napada hakera.