Dok radimo na svom dokumentu u Wordu, ponekad nam zatreba da zarad lepše stilizacije dokumenta ubacimo horizontalnu liniju. To se naročito primenjuje prilikom pisanja CV-jeva, ali i izveštaja i drugih dokumenata. Linije omogućavaju lepšu preglednost i naznačavanje bitnih delova teksta.
Postoji nekoliko načina na koji to možemo da uradimo, a mi ćemo vam pokazati tri načina.
1) Prečice preko tastature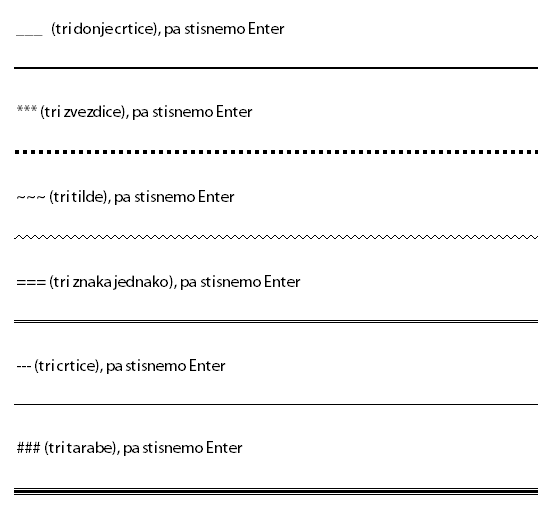 Najlakši način predstavlja korišćenje brzih prečica preko tastatura. Na mestu gde želite da stoji linija, otkucate tri znaka (vidite u  tabeli), pa pritisnete Enter. Tada će se pojaviti nova linija. Ovaj metod postoji i u LibreOffice-u, besplatnoj zameni za Word, pa je možete i tamo isprobati. U slučaju da vam se nešto poremeti, kliknite na Enter, pa na Clear All formattin u LibreOffice-u.
 2) Brze ivice i linije
U svom Wordu potražite ikonicu za formatiranje ivica, kao na slici. Tu ćete videti i mogućnost da umetnete horizontalnu liniju. Nakon što je umetnete, možete kliknuti dva puta na nju, ili desnim tasterom miša, i tu će se ukazati opcije da liniji menjate boju i debljinu.
3) Ivice paragrafa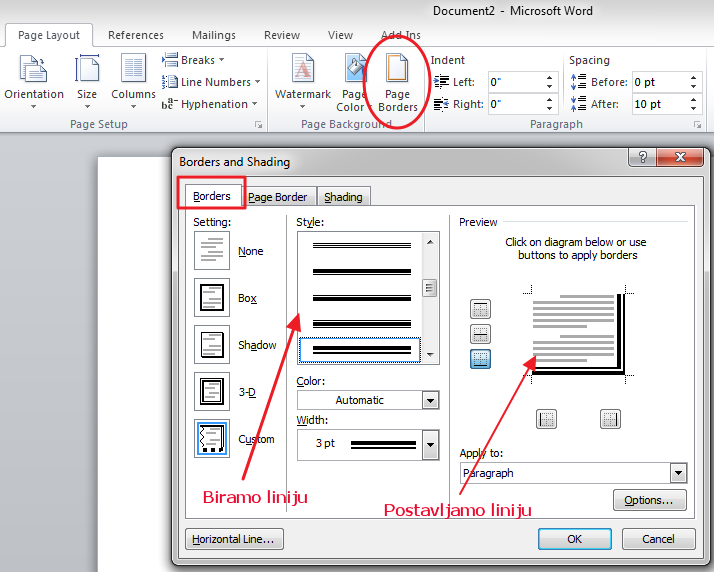 Verovatno već znate da Word nudi opcije za ubacivanje i označavanje ivica paragrafa. Linije tako mogu predstavljati svojevrsne ivice,  gornje ili donje. Za to je potrebno da odete u sekciju Ivice i senčenje, pa da zatim podesite stil linije (isprekidano, crtice, zvezdice, podebljano, duplo…), debljinu i boju. Ne zaboravite da podesite gde želite da linije bude postavljena, sa donje, gornje, leve ili desne strane paragrafa.