Audacity je najpopularniji program otvorenog koda za snimanje zvuka i njegovu naknadnu obradu.  Radi na svim operativnim sistemima. Prilično je kvalitetan. Podržava sve poznate audio formate kao što su: AVI, MP3, FLV, MPEG i ostali.
Danas ćemo da ukratko objasnimo šta je sve moguće obaviti s njim.
1. Snimite sebe kako pričate ili pevate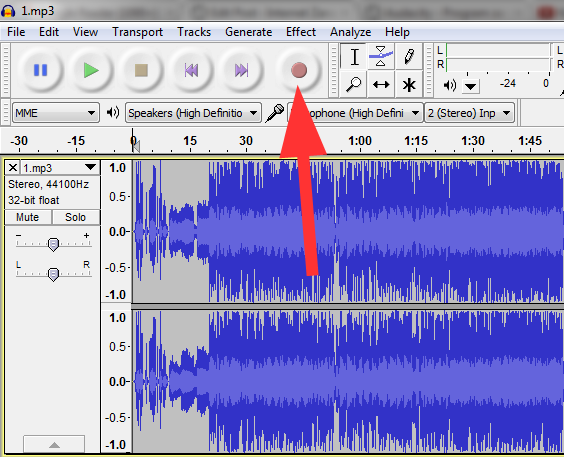 Veoma jednostavno možete da snimite svoj glas. Uključite mikrofon i kliknite na Record. Ako želite da snimite sebe kako pričate ili pevate uz neku pesmu potrebno je samo da je pustite u njemu i odaberete Record. Kvalitet snimka će, naravno, zavisiti od  mikrofona. Snimljeno možete naknadno da menjate, dorađujete, dodajete efekte i još mnogo toga. Slobodno eksperimentišite čuvajući rezervnu kopiju snimka.
2. Uklonite spoljašnji šum iz snimka
Buka u pozadini se, pri snimanju, retko kad može izbeći. Naročito kod mikrofona lošeg kvaliteta. To su vaše disanje, eho itd. Evo kako možete da to uklonite pomoću Audacity-ja.
Prvo je potrebno da u snimku pronađete deo na kome se isključivo čuje šum. To može, na primer, da bude par sekundi u kojima pravite pauzu.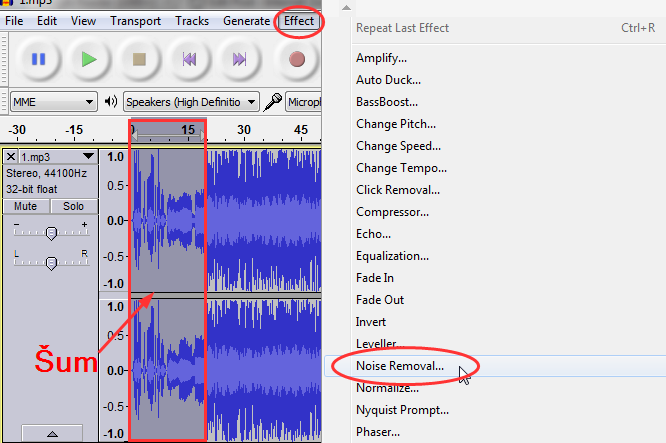 Taj deo snimka na kome se čuje isključivo pozadinska buka označite pa odaberite opciju Effect – Noise Removal.
U drugom koraku kliknite na Get Noise Profile.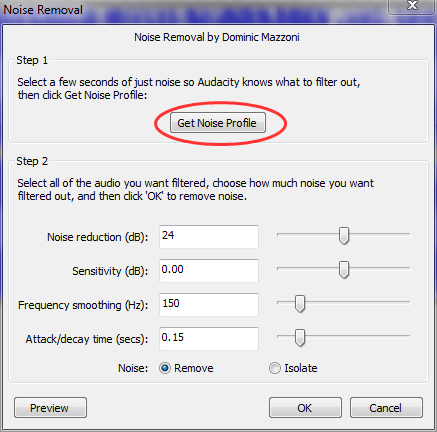 Sada ste programu rekli šta je tačno ta buka koja treba da se ukloni.
U sledećm koraku selektujte celu pesmu, i ponovo kliknete na Effect – Noise Removal , pa na OK. Dakle ponovite proceduru iz prvog koraka, ali ovaj put sa celom pesmom.
Sada će ceo snimak biti prečišćen.
3. Promena i dorada zvuka i glasa
Zvuk menjamo pomoću efekata. Na primer, možemo ga kompresovati i normalizovati. Stavka Effects čuda čini. Pogledajte na video snimku kako da vaš glas deluje dublje ili obrnuto.

4. Izbacivanje glasa ili pevanja iz pesme
Ako volite da pevate karaoke,  znate koliko je nezgodno pevati istovremeno sa pevačem. Audacity može da izbaci pevača iz snimka. Rezultat nije uvek idealan, ali je, u poređenju sa ostalim besplatnim programima, najbolje što može da se ostvari.
Otvorite pesmu u programu. Potom, odaberite opciju Split Stereo Track, kao na slici.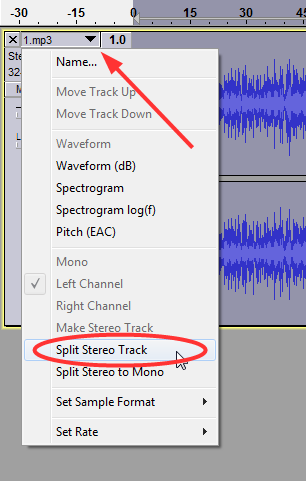 Traka će se podeliti na dva dela. Odaberite donju traku, i kliknite na Effect – Invert.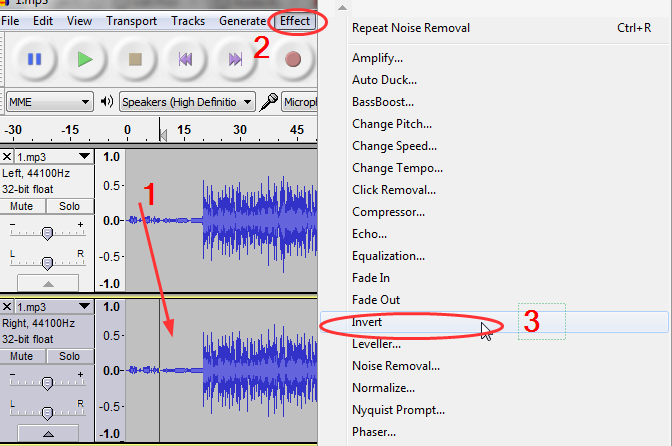 Naposletku, kod obe trake odaberite opciju Mono, kao na slici. Ponavljamo, Mono podesite na obema trakama.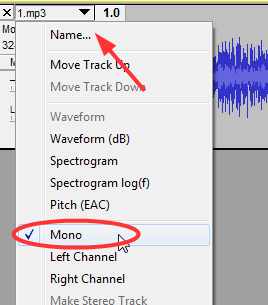 Sada pustite video i trebalo bi da nema više glasa. Ostala je samo muzika.
5. Ubacite tišinu
Ponekada je potrebno ubacivanja tišine. Na primer, ako se u određenom delu snimka čuje vaše disanje ili želite da tačno naglasite pauzu. Prvo, označite tačno deo gde želite da bude muk. Kliknite na Generate – Silence. To bi trebalo da završi posao.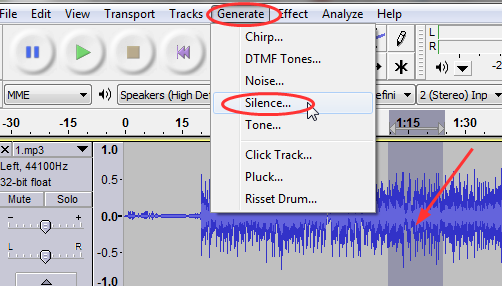 6. Izvoz u mp3 format
Na kraju napominjemo da je nakon svih izvršenih promena bitno da uradite File – Export, kako bi snimili sve u željenom audio formatu.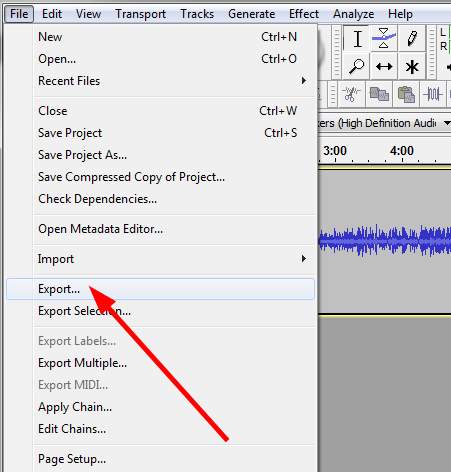 Za mp3 format će biti potrebno da skinete enkoder http://lame.buanzo.org/. Željeni format izvezenog fajla birate u padajućem meniju.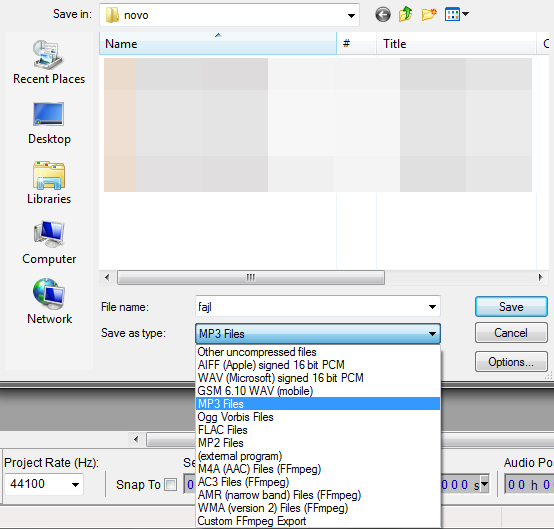 Program je idealan za početnike i sve koji rade osnovnu obradu zvuka.  Pored  njega, za snimanje može da se koristi i alat  Vocaroo.