Mobilni telefoni čine da budemo dostupni svima, ma gde god se nalazili. Ali, to ne podrazumeva da mi želimo da uvek svakome budemo na raspolaganju. Nekada, na primer, želimo da se odmorimo od određene osobe ili od telefona uopšte. Tada nam u pomoć mogu priskočiti Android aplikacije za blokiranje poziva i poruka sa određenih brojeva.
Ovakvih aplikacija ima nekoliko. Danas ćemo predstaviti jednu koja se nama učinila najjednostavnijom za korišćenje, ali istovremeno i delotvornom. Zove se Calls Blacklist.
Call Blocker omogućava da blokirate dolazne pozive od unapred definisanih brojeva. Osobi koja vas poziva će izlaziti obaveštenje da niste dostupni. Vama telefon uopšte neće zvoniti, ali, ako to podesite,  u obaveštenjima možete videti ko vas je zvao. Isto važi i za poruke. One neće stići u primljene poruke, nego će biti vidljive samo u obaveštenjima.
Nakon instalacije biće vam predstavljena tri dugmeta.
Prva opcija je Blacklist, gde možete odmah da uneste brojeve koje želite da blokirate. Kliknite na Add, i ukazaće vam se mogućnosti da uvezete broj koji želite da blokirate. Kao što vidite na slici, možete ga uvesti iz liste poziva (from calls log), kontakata (from contacts), poruka (from message log) ili da ga ručno ukucate (manually).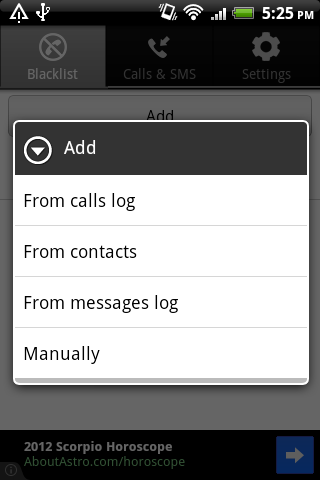 Drugo dugme sadrži spisak svih poziva koji su blokirani, dok se u trećem dugmetu Settings nalaze podešavanja.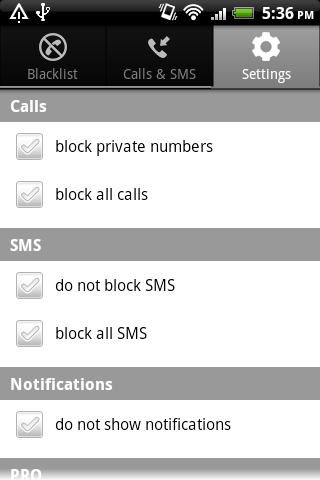 Ako štiklirate opciju "Block private numbers", blokiraćete sve pozive koji dolaze sa brojeva koji nisu u vašoj kontakt listi.
Štikliranje druge opcije "block all calls", omogućava da blokirate sve pozive.
Isto tako, možete da blokirate i poruke, kao što vidite u narednim opcijama. Ako želite da potpuno isključite obaveštenja to možete uraditi tako što štiklirate opciju: "do not show notification".
Aplikaciju možete skinuti ovde: Calls Blacklist