Nekada nam treba da određeni video ubrzamo ili usporimo. Na primer, video snimke na jeziku koje tek učimo je uvek dobro da usporimo, kako bi pravilo čuli kako se reči izgoravaju. A nekad je govornik suviše spor, pa želimo da ga ubrzamo. Većina video plejera omogućava ubrzavanje ili usporavanje snimaka. Već smo vam pisali kako se to može uraditi na VLC medija plejeru, čak i na telefonu.
To isto važi i za Youtube.
Sve što je potrebno da uradite je da kliknete na malu ikonicu zupčanika ispod snimka, gde se nalaze podešavanja.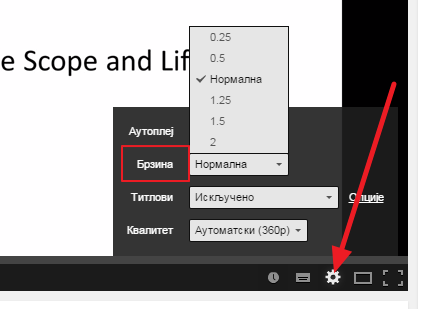 Potom odaberite opciju Brzina i tu kao što vidite imate mogućnost i ubrzavanja (sve što je veće od 1) i usporavanja (sve što je manje od 1). Nažalost, ne moramo da sami ukucamo brzinu, ima ih samo nekoliko dostupnih, ali se nadamo da će to biti moguće u budućnosti.