Iz raznoraznih razloga nam može biti potrebno da iz nekog video snimka izvučemo samo audio format. Na primer, možda želimo da napravimo zvučnu knjigu za slušanje preko telefona ili plejera. Audio format i zauzima manje prostora, a možda želimo da tu audio traku naknadno menjamo i sečemo.
Elem, postoji zaista veliki broj i besplatnih i plaćenih programa koji vam u tome mogu pomoću. Nedavno smo pisali kako da to uradite pomoću Audacity. A danas predstavljamo jedan mali efikasan program, koji nam se takođe veoma svideo, jer je brz i prilično jednostavan za korišćenje.
U pitanje je program X Media Recode, besplatan audio i video transkoder, koji može da se koristi bez ikakvih ograničenja. Redovno se ažurira i podržava sve Windows operativne sisteme (Windows 8, između ostalog). Omogućava da iz videa bilo kog formata sačuvate audio u mp3 formatu, ali i u drugim manje poznatim audio formatima: ogg, wav, flac i wma. Pored toga, omogućava i da bilo koji video format konvertujete u bilo koji drugi video format. Nažalost program nije dostupan na našem jeziku.
Potrebno je da ubacite video koji želite konvertovati u program pomoću opcije Open File , i zatim samo odaberete željeni izlazni format. Kao što vidite, izbor je zaista veliki.
Zatim je potrebno da kliknete na Add Job, pa na Encode.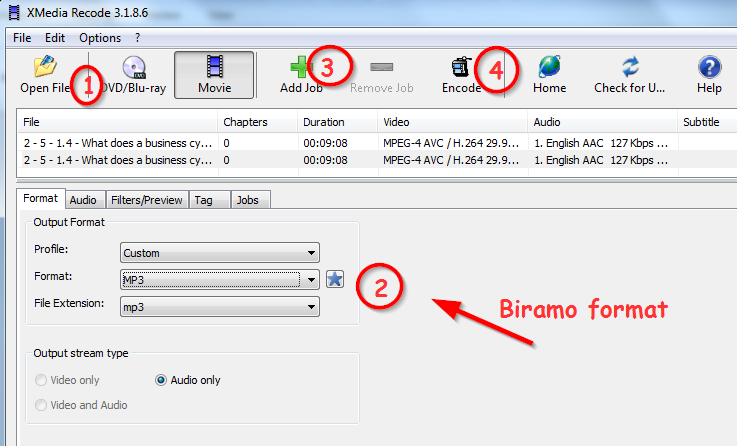 To je to, konverzija neće trajati dugo. Kvalitet je izvanredan, a novi audio zapis ćete pronaći u folderu koji sami odredite u dnu programa.