Na Internetu se od nas često zahteva da negde ostavimo svoju imejl adresu. Na primer za registraciju na neki sajt, prijavu na neku listu i slično. Međutim, ostavljanjem adresa uvek rizikujemo da one budu zloupotrebljene i da počne da nam pristiže pošta koju u stvari ne želimo. Postoji nekoliko načina borbe sa tim problemom. Jedan od načina je da koristimo email adrese za jednokratnu upotrebu, drugi da pravimo filtere, da se odjavljujemo od neželjene pošte ili da ih redovno prijavljujemo kao spam.
Još jedan način predstavlja i strategija da imamo nekoliko imejl adresa, i svaku koristimo za zasebnu svrhu. Na primer, jednu adresu koristimo za društvene mreže, drugu za posao, treću za sumnjive sajtove i slično. Sajt Outlook.com ima zanimljivu funkcionalnost koja nam pomaže da u okviru jednog naloga pošte imamo više različitih adresa. Te adrese se zovu pseudonimi (alijasi), i sve prosleđuju pristiglu poštu u jedno sanduče, ali omogućavaju da nigde ne morate  da ostavite svoju pravu glavnu adresu, već možete da je zamenite pseudonimom.
Kako da napravite pseudonim (alijas) adresu?
Ulogujte se u onlajn servis Outlook.com.
Zatim idite na opciju Option – More mail settings (Podešavanja – Još postavki pošte).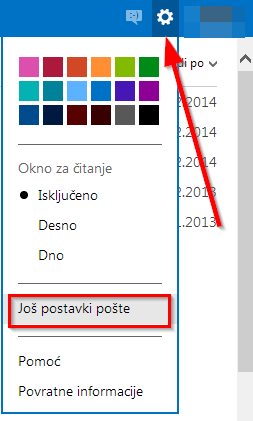 Potom kliknite na Create Outlook alias (Kreiraj Outlook pseudonim).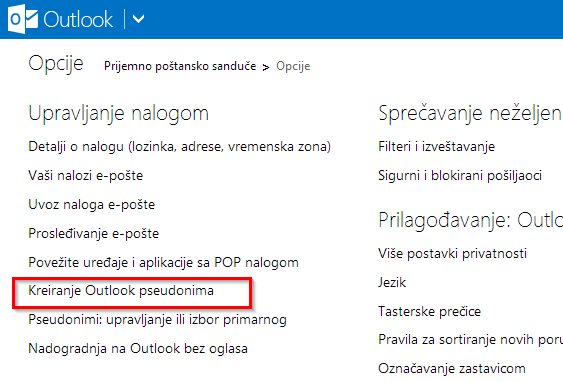 Sada unesite kako će da glasi vaša nova adresa, a možete izabrati i završetak, da li je to hotmail.com ili outlook.com.

Na kraju, ne zaboravite  da podesite da sva pošta sa alijasa ide u zasebno sanduče. To je idealno ako želimo da lepo razvrstamo mejlove.

Potom ćete dobiti imejl sa objašnjenjem kako funkcionišu alijasi i kako ih koristiti. To su svojevrsne privremene iliti sporedne imejl adrese, ali nema mnogo razlike između njih i pravih. Možete ih menjati i brisati po potrebi.