Prosleđivanje
Primljenu SMS poruku ponekada želimo da prosledimo (forward) nekom drugom. To je često slučaj sa, na primer, božićnim, novogodišnjim ili rođendanskim čestitkama. Na starim telefonima to je bilo veoma lako, ali kod android uređaja mnogi se zbune, jer opcija prosleđivanja nije odmah vidljiva. Način se razlikuje od verzije androida ali je princip isti.
Dodirnite poruku koju želite da pošaljete dalje i držite prst malo duže nego uobičajeno (duži stisak).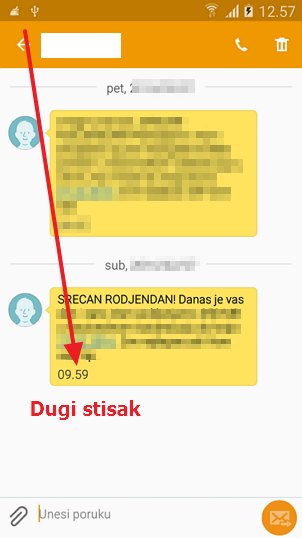 Pojaviće se novi meni.  U njemu odaberite Prosledi (Forward).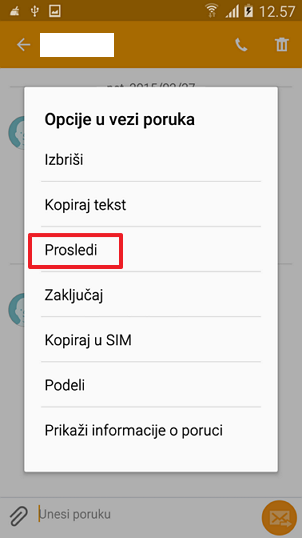 Kao što vidite sve je veoma jednostavno. Pored opcije Prosledi tu se nalaze i opcije za brisanje poruke, čuvanje na kartici itd.
Birsanje
Postupak je slični kao i u prethodnom slučaju. Pogledajte na slici kako da obrišete samo jednu, a kako više poruka.