Standardna Androidova tastatura ima samo engleska slova. Pomoću nje možemo da kucamo samo ćelavom latinicom. Kod SMS poruka to i nije strašno, ali androidni uređaji služa za mnogo  više od toga. Sve više se javlja potreba da koristimo druga pisma.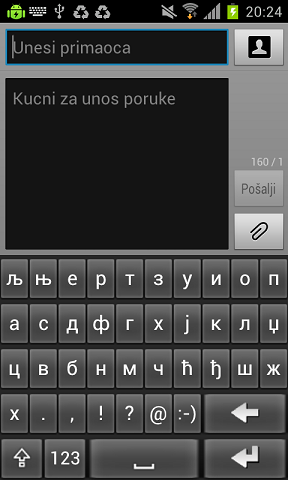 Kako da to izvedemo? Lako, samo je potrebno da instaliramo novu tastaturu. Na primer, Guglovu tastaturu ili Multilang.
Potom idite u Podešavanja – Komande – Jezik i unos.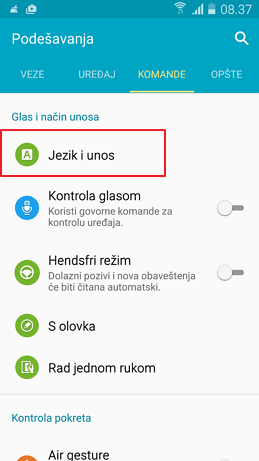 Postavite novu tastaturu kao podrazumevanu.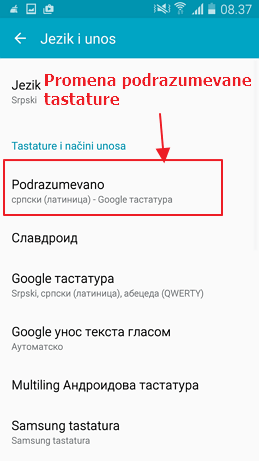 Za podešavanja svake pojedinačne tastature, tapnite na njeno ime.
Ako se na spisku ne vidi ime željene tastature, morate da je uključite. Za to kliknite na Podesi metode unosa, pa štiklirajte sve tastature koje želite da koristite.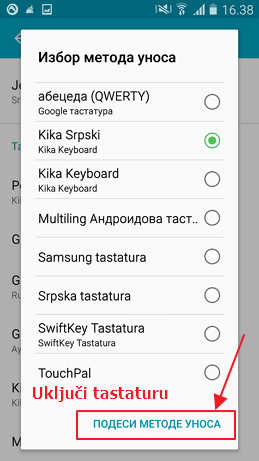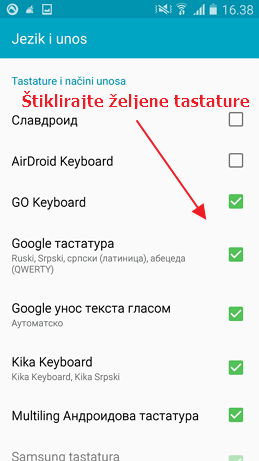 Često ćete morati da vršite podešavanja. Na primer, da ubacite novi jezik, isključite sugerisanje reči, automatsku proveru pravopisa i slično. Tapnete na tastaturu i potražite ta podešavanja.